SharePoint Contract Management
Introduction
Many organisations face the challenge to manage all internal and external contracts throughout their entire life cycle in a consistent manner. Typical needs are: document versioning, uniform approval and review processes, relationship between contracts, insight and reporting on cost, notifications of terms, rights or obligations, compliance with internal mandates and governmental regulations, maintaining global contracts in multiple languages, currencies, etc.
To meet these needs, we offer a sophisticated pre-configured SharePoint-based Contract Management solution; Shareflex Contract Online. SharePoint offers an ideal platform for contract management, since collaboration, central data storage, as well as integrated document management – including version management and full text – are all already available in the standard version. Shareflex Contract Online intelligently extends the SharePoint standard functionalities so you can use them easily and intuitively.
Shareflex Contract Online is pre-configured for eight main contract types. Often, this is already sufficient, but you can easily extend this number. The solution is already in use in companies in the automotive industry, the pharmaceutical sector and in retail and technology companies.
We display the eight contract types in the image below.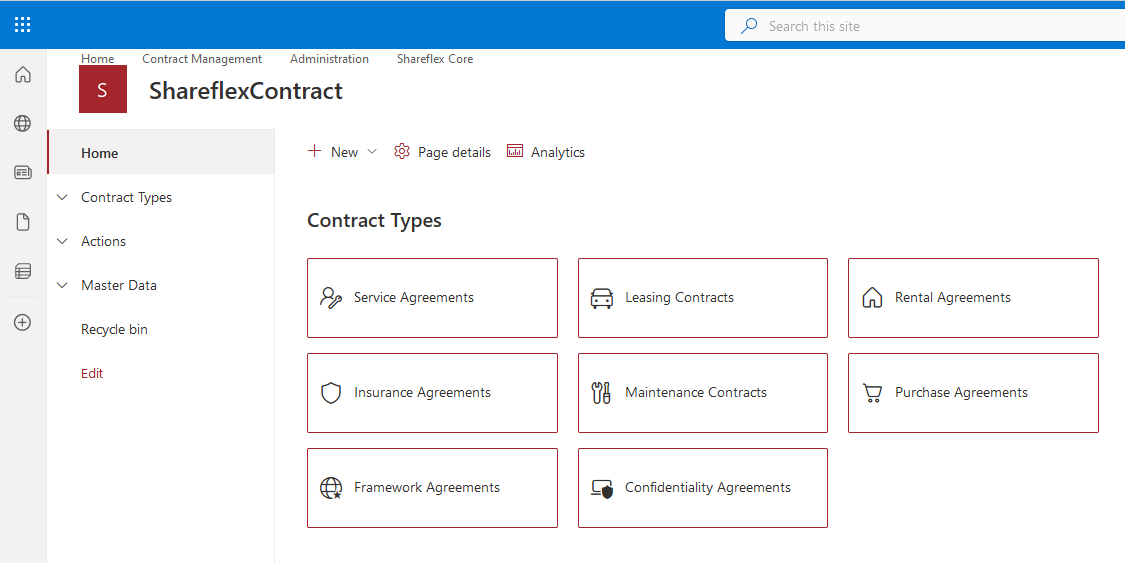 Shareflex Contract Online is available in Dutch, German and English. We can support other languages as per your need. 
Legal entities and Business Partners
Shareflex Contract Online contains two lists – one for Legal Entities and one for Partners – that users can use to create records.

Business Partners
Shareflex Contract Online displays all business partners in a list.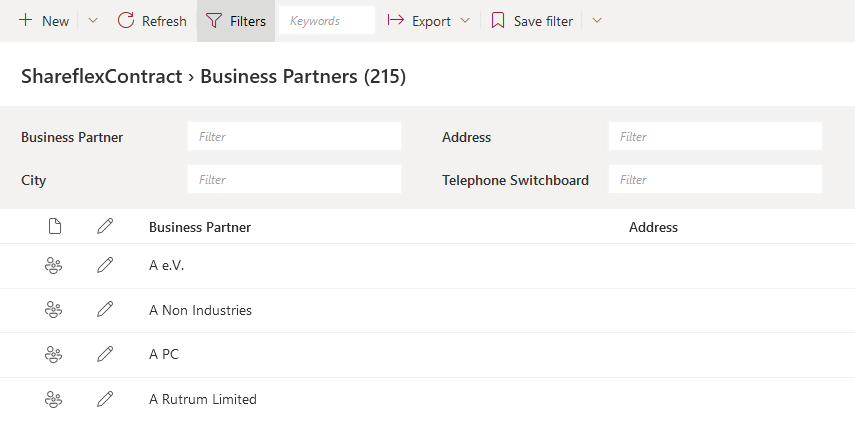 The solution displays the partner's address information on one screen. At the bottom you find a tab where you can maintain all partner employees involved with this contract. The right pane displays the different company contracts with this business partner with applicable contract hierarchies.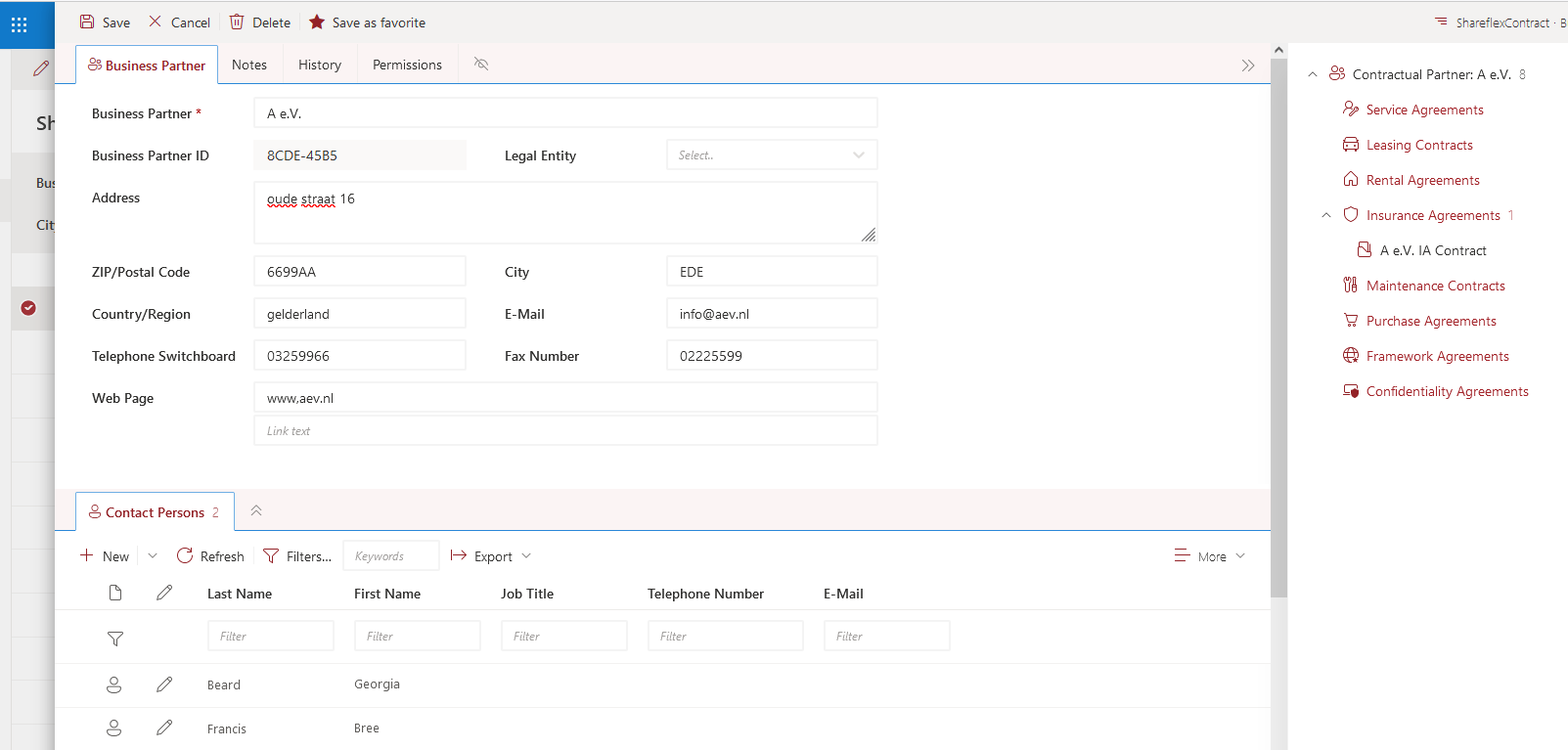 The Business Partner Form makes it easy to add new contract persons.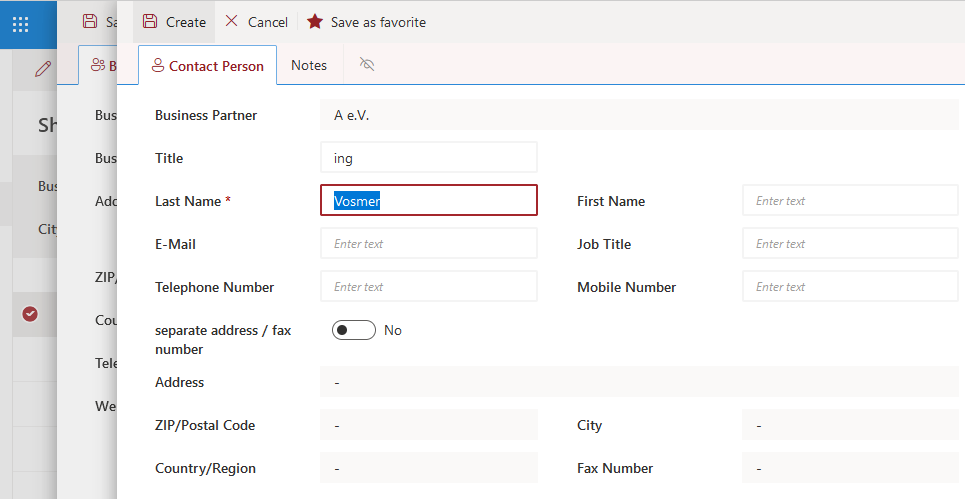 Legal Entities
Similar to Partners, Shareflex Contract Online also displays all Legal Entities in a list.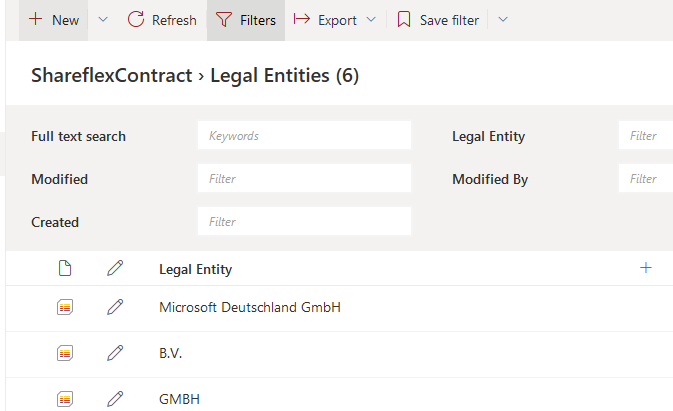 The Legal Entity Form is straightforward and easy to use.

Contract Types
Shareflex Contract Online contains 18 Forms to record individual details related to contracts and agreements.
All individual Forms are visible in the table below. Please click on the image to enlarge it.

Contract name
Subcontract options


Screen shots Main Form

Service

Consultant

Service

Energy Supply

Service

Object management

Service

Property protection

Service

Telecommunication

Leasing

Car leasing

Leasing

Machine leasing

Leasing

Office equipment leasing

Rental

Apartment
Garage
Office space
Parking space
Storage space

Insurance
Maintenance
Purchase
Framework
Confidentiality
To manage additional properties of the Contract, Shareflex Contract Online offers several Tabs as per below table. Please click on the image to enlarge it.
| | |
| --- | --- |
| Duration / Cancellation | |
| Notifications | |
| Risks | |
D
eep
dive
into
 the
Contract
Form
Now that you understand the different contract types, let's explore the details and functions of the contract Form in more depth.
We don't cover the obvious fields and settings in the explanation below, assuming that these are familiar to you. 
Contract data details
Creating contracts is very easy thanks to a user-friendly interface integrated in SharePoint. You can quickly enter the necessary contract metadata fields via input fields, static or interdependent value sets, user/group selection from the Active Directory, checkboxes, very convenient data pickers and many other smart interface functions.
The contract metadata of the individual contract types are of course not static, but can be adapted to the individual wishes of the departments by department administrators. You can add, delete or move contract metadata, headings, formatting, columns, rows and even tabs at any time without any programming using the Shareflex Form Designer.
When saving a contract, a mandatory field check ensures that all necessary data for the contract is actually present.
The master data sheet lists all contract data details on the first tab. Please select the 'Contractual Partner' and 'Contact Person' (marked in purple) and choose the 'Legal Entity' of the company (marked in green).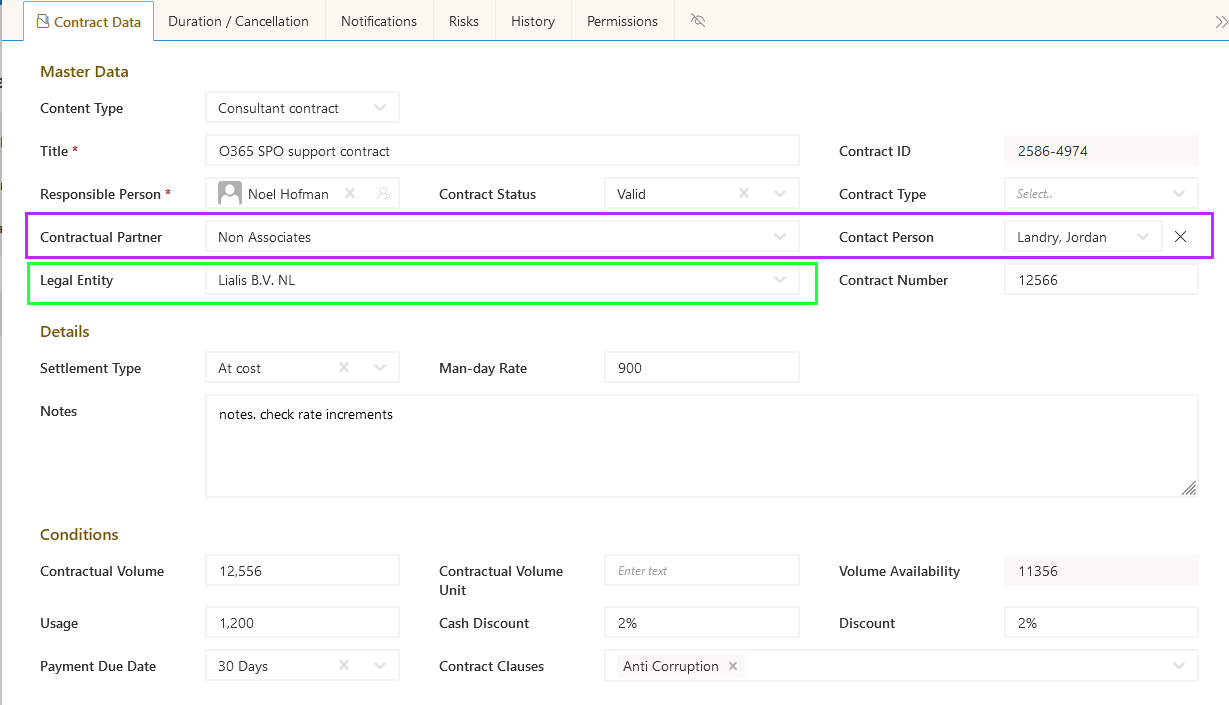 Duration / Cancellation details
The Contract Duration tab on the main Form enables users to manage the complete contract life cycle. Once you enter the details automatically you see a graphical representation in a timeline at the bottom of the Form. You can see instantly see if the contract is valid and when renewal periods are planned.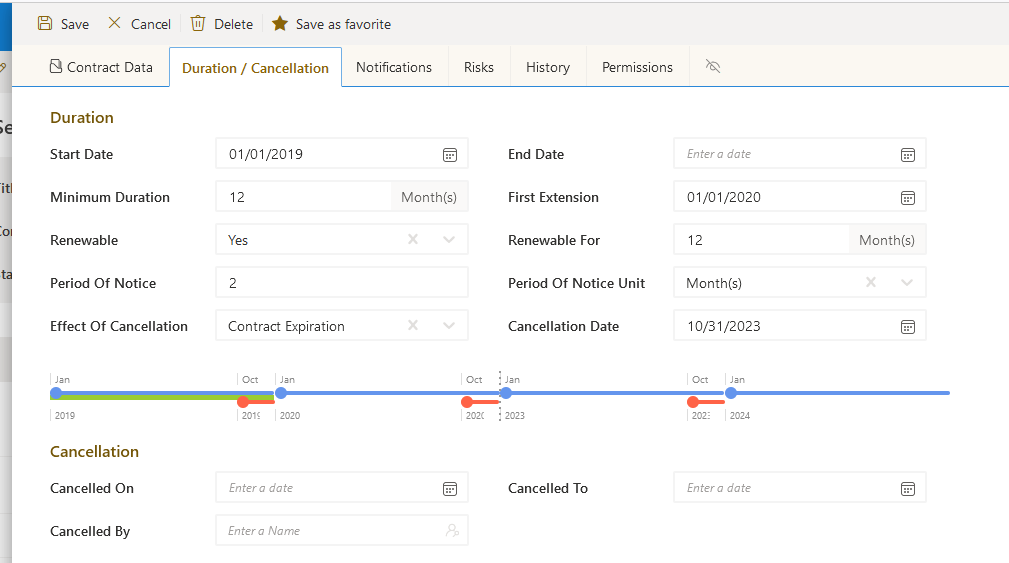 Notifications
On the third tab you can configure e-mail notifications. You can capture standard deadlines for the contract, as well as
individual deadlines. The integrated notification system informs by email about deadlines or tasks in due time.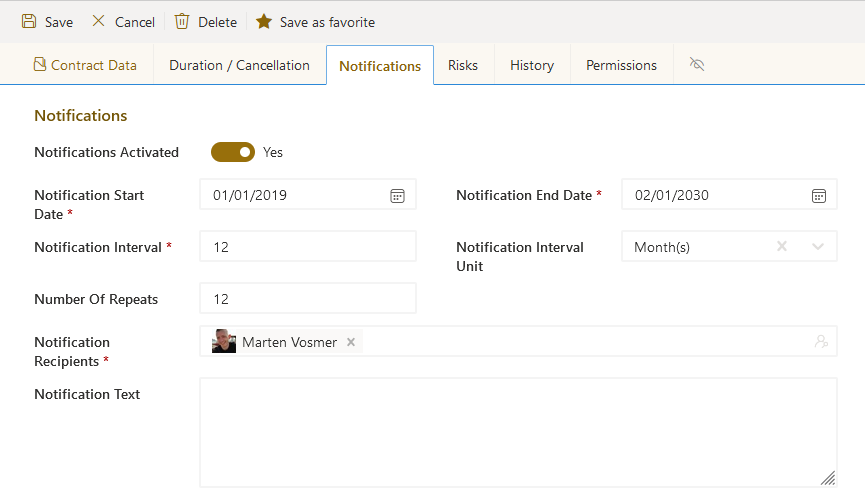 Risks
The fourth tab 'Risks' allows you to classify the contract in a specific Risk class. For example, you might want to  track a contractual penalty clause with a high (financial and/or operational) impact.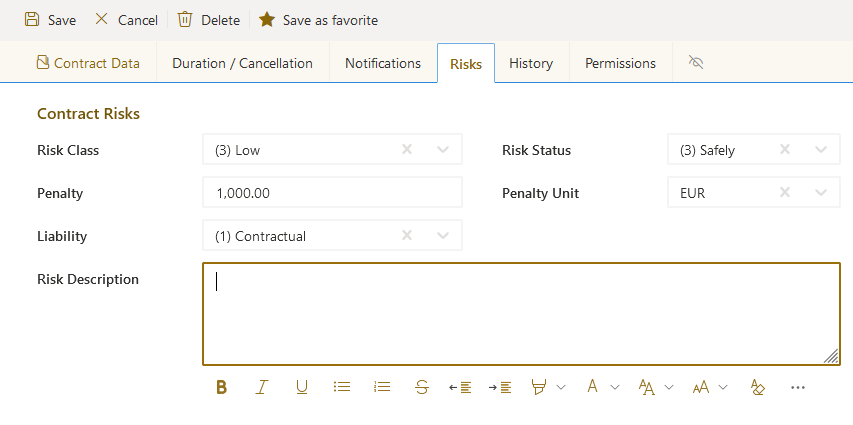 History
The History tab displays the audit trail and versioning of the document and workflows. It allows users to restore previous versions. This is a typical SharePoint feature that comes in very handy when managing contracts.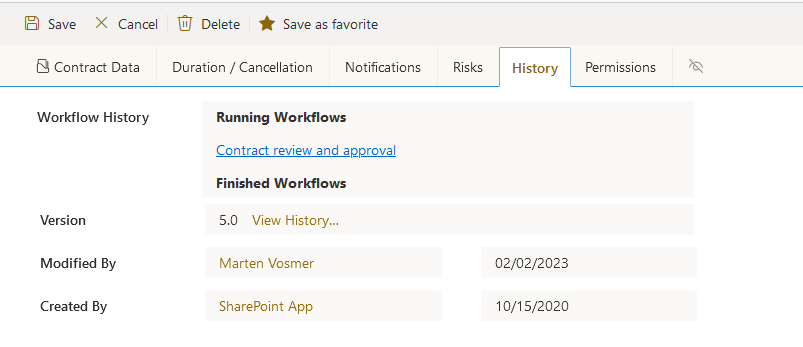 As you can see in the above example a workflow is configured to warn a certain user that he/she needs to review the contract on a certain date.  
Permissions
Shareflex Contract Online provides flexibly configurable permissions module. For example, you can create a confidentiality level when creating a contract that automatically triggers mechanisms in the background. This will make sure that the contract and all contract elements belonging to the contract are aligned with the corresponding SharePoint permissions. Via the permissions module users can be assigned to roles. This is rounded off by individually configurable authorization units and sets of rules, just as the business requires.
Periods
You can configure important individual contractual periods with start date, duration and link them to certain tasks.

Tasks
Furthermore, you can enter and prioritize tasks for the contract manually and/or based on rules, so that Shareflex Contract Online manages deadlines during the year. If required, you can synchronize these tasks with Outlook via SharePoint.

Payments
Of course payments are an important part of contracts. The system allows you to define payment plans for recurring payments. Setting the payment type, amount, period, and, if you want allocate the payment to a certain cost unit. The full payment plan for a contract is visible for the end user.

Positions
Shareflex Contract Online allows you to define various contract positions as you can see below.

Relations
Shareflex Contract Online is great in creating and storing contractual relationships. If a contract is set in relation to another contract, e.g. to a framework contract, the relationship has a bidirectional effect in both directions. Intelligent links help to easily connect the different contract objects.

Notes
The Notes tab provides the option to enter any relevant information to a certain contract. This is specially useful when you have multiple users working on the same contract.

Documents
Do you work with contract templates? If so, you can easily insert the metadata as well as the corresponding data from an ERP or CRM system into a contract template. This allows contract documents to be created fully automatically. The configuration is done without programming very smartly directly from Word or Excel.
You can attach all documents and files related to the contract to the Contract Document tab.
However, a user can also upload documents very elegantly via Outlook. There the contract files are directly available via a search. Via drag&drop you can store complete emails, of single attachments but also of documents directly from the Windows-Explorer. The assignment of metadata is done directly via Outlook. In addition to filing via Outlook, the user can also file the document directly from the Office application, e.g. Microsoft Word, in the contract file.
Once uploaded to the contract file, you can version contract documents at any time. You can compare older contract versions with the latest contract document at any time directly from the contract file using the Microsoft Word version comparison.
Each file also has version history functions.

Additional functions
Scanning
With its integrated modules and "Scan & Recognition" feature, contracts can be quickly scanned and digitalized.
Finding contracts
Finding contracts is also very easy. On the one hand, a cockpit is available, via which a quick access to the contracts and other important contract areas is possible. In addition, you can find contracts specifically via the meta data. In addition to the meta data, the full text is of course also available for the search. Intelligent filtering of the full text search result guarantees that a user can quickly and easily find the desired contract or contract information.
Reporting
Based on the available meta data, a user ca create any graphical or tabular report using the integrated reporting module. Shareflex Contract Online provides 20 typical reports as standard. You can easily adapt these individually via appropriate interfaces.
Archiving
The audit-proof archiving of contract documents in Shareflex Contract Online can be done manually or via rules. The solution can store the documents and their metadata on storage systems like NetApp, EMC, Hitachi or RAID/GrayData. If you already have an existing ECM or DMS system in use, we can also integrate it seamlessly into Shareflex Contract Online.
Shareflex Workflow
The review and approval of contracts can be done directly via the integrated component Shareflex Flow. The verification workflow starts with a contract status change and is automatically sent as a task to the next processor or group for processing. The actual workflow processing by the user takes place in the already known and easy to use interfaces.
The department administrators design the underlying workflow via the graphical workflow designer. This allows them to easily create and adapt workflows to changing technical requirements at any time.
Demonstration movie
The purpose of this article is to give you a high-level overview on how to bring order and structure into your contract management with SharePoint using Shareflex Contract Online. Especially when your organisation already uses Microsoft 365 technology the implementation and adoption of Shareflex Contract Online is quite straightforward.
Default we deliver Shareflex Contract Online in German and English. However, if you have a need to support another language we can easily translate the system into any language supported by Microsoft.
So, if you are interested to further explore how Shareflex Contract Online can meet your challenges we can organize a demonstration/Q&A session.