Modify SharePoint Online Toolbar Buttons with JSON
In this post we explain how to modify the standard toolbar buttons (New, Edit, Share, etc.) in SharePoint or Microsoft Lists and Libraries. Thanks to the new SharePoint List Formatting capabilities, this is now possible! JSON (JavaScript Object Notation) allows us to customize the text of these buttons, hide them completely, or move them to the overflow area.
This functionality provides the flexibility to truly customize our lists and offers the additional benefit of hiding specific elements when SharePoint lists serve as a backend for Power Apps canvas applications. By hiding the New and Edit buttons, users will be directed to your Power App instead of attempting to bypass it directly within the list.
Navigate to "Format current view"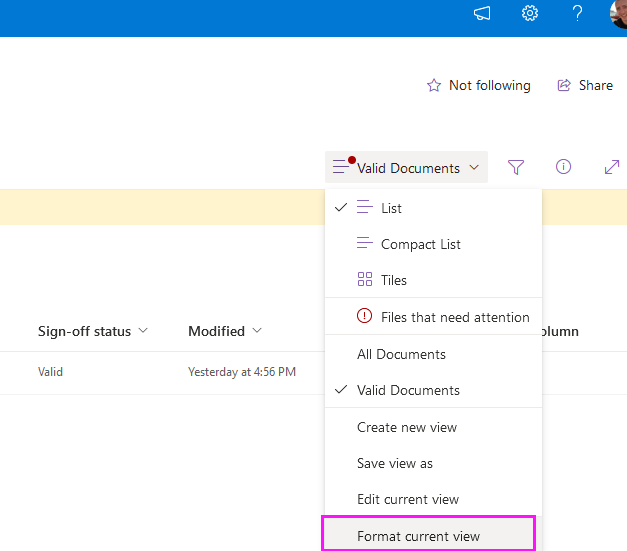 Press Advanced mode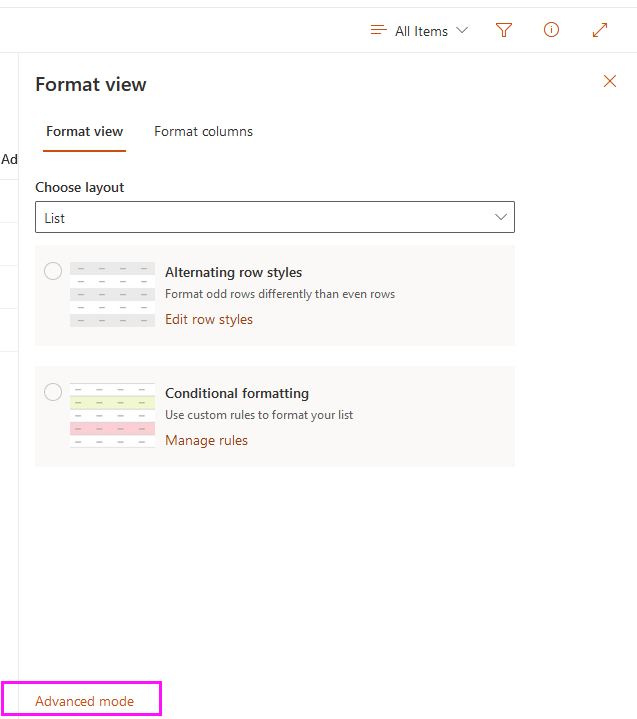 Now its possible to input the JSON code.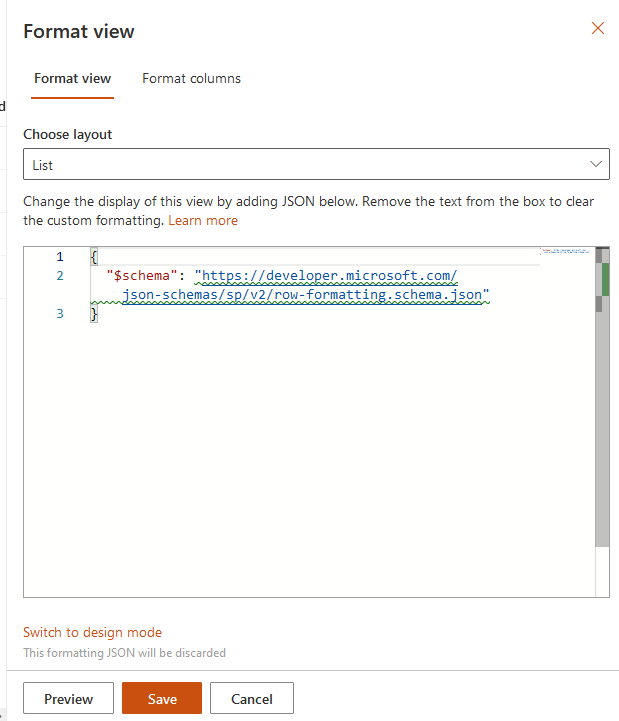 An example of the JSON code used in a project is listed below.
1

2

3

4

5

6

7

8

9

10

11

12

13

14

15

16

17

18

19

20

21

22

23

24

25

26

27

28

29

30

31

32

33

34

35

36

37

38

39

40

41

42

43

44

45

46

47

48

49

50

51

52

53

54

55

56

57

58

59

60

61

62

63

64

65

66

67

68

69

70

71

72

73

74

75

76

77

78

79

80

81

82

83

84

85

86

87

88

89

90

91

92

93

94

95

96

97

98

99

100

101

102

103

104

105

106

107

108

109

110

111

112

113

114

115

116

117

118

119

120

121

122

123

124

125

126

127

128

129

130

131

132

133

134

135

136

137

138

139

140

141

142

143

144

145

146

147

148

149

150

151

152

153

154

155

156

157

158

159

160

161

162

163

164

165

166

167

168

169

170

171

172

173

174

175

176

177

178

179

180

181

182

183

184

185

186

187

188

189

190

191

192

193

194

195

196

197

198

199

200

201

202

203

204

205

206

207

"$schema"

:

"https://developer.microsoft.com/json-schemas/sp/v2/row-formatting.schema.json"

,

"key"

:

"pinToQuickAccess"

,
All keys you can use are listed below
'new'
'newFolder'
'newWordDocument'
'newExcelWorkbook'
'newPowerPointPresentation'
'newOneNoteNotebook'
'newFormsForExcel'
'newVisioDrawing'
'upload'
'uploadFile'
'uploadFolder'
'open'
'share'
'copyLink'
'download'
'rename'
'copyTo'
'moveTo'
'delete'
'edit'
'comment'
'editNewMenu'
'powerBI'
'powerBIVisualizeList'
'automate'
'automateCreateRule'
'automateManageRules'
'powerAutomate'
'powerAutomateCreateFlow'
'powerAutomateSeeFlows'
'powerAutomateConfigureFlows'
'aiBuilderCreate'
'aiBuilderGoto'
'aiBuilder'
'alertMe'
'newLink'
'integrate'
'manageAlert'
'powerApps'
'powerAppsCreateApp'
'powerAppsSeeAllApps'
'powerAppsCustomizeForms'
'viewDocumentUnderstandingModels'
'versionHistory'
'openInImmersiveReader'
'classifyAndExtract'
'checkOut'
'checkIn'
'undoCheckOut'
'properties'
'pinItem'
'exportExcel'
'exportCSV'
'export'
'editInGridView'
'exitGridView'
'sync'
'uploadTemplate'
'addTemplate'
'openInOfficeOnline'
'openInOfficeClient'
'addShortcut'
'pinToQuickAccess'
'unpinFromQuickAccess'